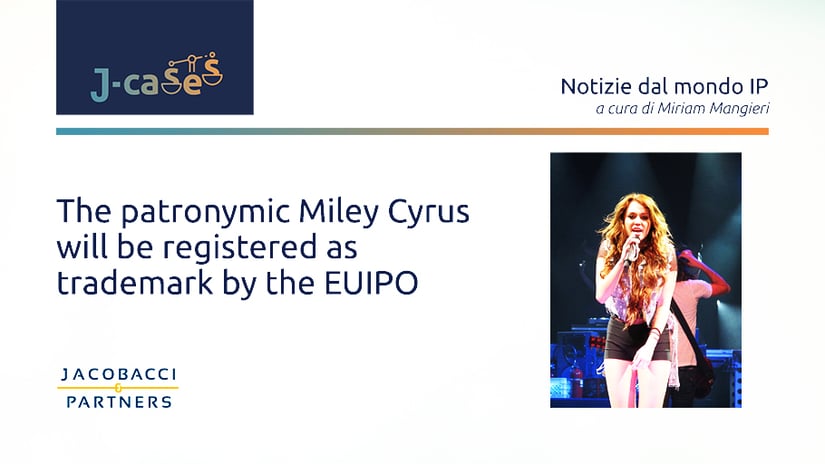 On April 21, 2014, Smiley Miley Inc, company of the famous American singer and actress Miley Cyrus, filed before the EUIPO an application for the word mark Miley Cyrus in classes 9,16,28 and 41.
The application was opposed by Cyrus Trademarks Limited on the basis of the likelihood of confusion with its earlier EUTM <image.png> registered in classes 9 and 20.
The Opposition Division partially upheld the opposition, rejecting the TM application for Miley Cyrus for the majority of the goods and services applied for.
Smiley Miley appealed before the Board of Appeal of EUIPO which, in its decision, confirmed the existence of a likelihood of confusion between the signs and claimed that, in patronymic marks, consumers usually remember the surname rather than the name.

The applicant appealed also this decision before the General Court.

The Court observed that Miley Cyrus enjoys international reputation and that, during her career, she has never used her surname alone, but always in association with the name Miley.

Moreover, the decision states that the Board of Appeal had wrongly considered that it was not possible to make a conceptual comparison between the signs, since the relevant public will perceive the mark applied for as representing the name of the famous singer.

Thus, there is a conceptual difference between the signs, and the verbal elements MILEY and CYRUS are equally distinctive and none of them has a greatest impact in the trademark.

Therefore, the Court annulled the decision of the Board of Appeal and the EUTM application of the famous singer will continue its registration process.

With this decision (T-368/20), the General Court has clarified that, in patronymic trademarks, conceptual comparison is possible when the first or the last name becomes a symbol of a concept determining, due to the notoriety of the celebrity, a direct and immediate connection.