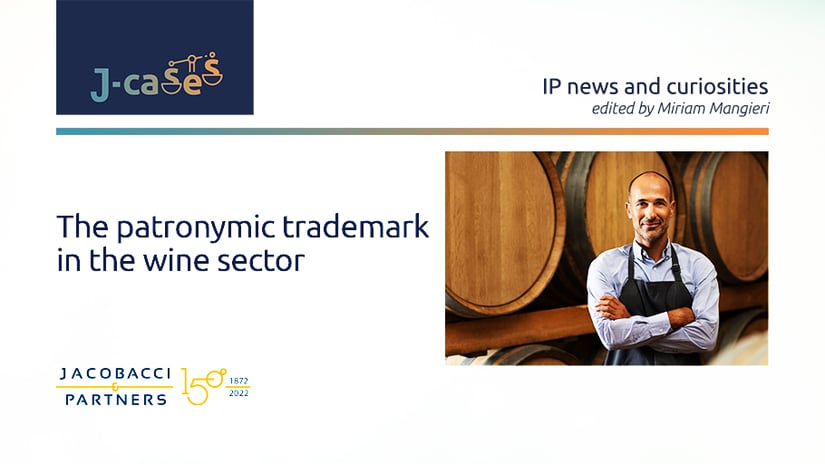 With the sentence no. 25/22 The Board of Appeal of IPTO ruled on appeal no. 7770 denying the coexistence of two patronymic trademarks, even though they differed from each other for the first name.
Below is a summary of the case.
The IPTO rejected the opposition filed by Mr. Vacca Francesco and Mr. Vacca Stefano, owners of the trademark VACCA, in both word and figurative version, registered in relation to classes 29, 30 and 33.
The opposition was directed against the figurative mark SAVERIO VACCA filed by Azienda Agricola Vacca Francesco e Mario di Vacca Saverio, to protect goods in classes 31 and 33.
Considering the goods at issue and the relevant public, the Office concluded that the differences between the signs outweighed the similarities and ruled out a likelihood of confusion, including a likelihood of association between the marks, rejecting the opposition.
In fact, in the wine sector it is frequent the presence of many producing companies, many of them small and family oriented, which use family names as distinctive signs. This implies a lesser distinctive value of the patronymic as the addition of the first name to the surname, especially if accompanied by further descriptive elements, can be a sufficient element of differentiation.
The owners of the earlier VACCA trademarks appealed this decision. The Board of Appeal in its judgment departed from the prevailing jurisprudence, reaching the following conclusions.
The patronymic is the parameter that indicates the degree of similarity between the trademarks under comparison capable of electing a clear and immediate association with the origin of the goods and services.
Although in the present case there are slight elements of differentiation between the signs, this is not relevant in all those cases in which, as the one at issue, the surname, as a strong distinctive sign, has also an additional value.
Therefore, the Board of Appeal upheld the appeal, confirming that the earlier VACCA marks were endowed with enhanced distinctive character, as demonstrated by the allegations and documents produced by the applicants aimed, precisely, to prove the spread of the signs in the market.
Therefore, in presence of the signs with enhanced distinctiveness, even in a sector such as the one of the wine, a risk of confusion must be recognized.