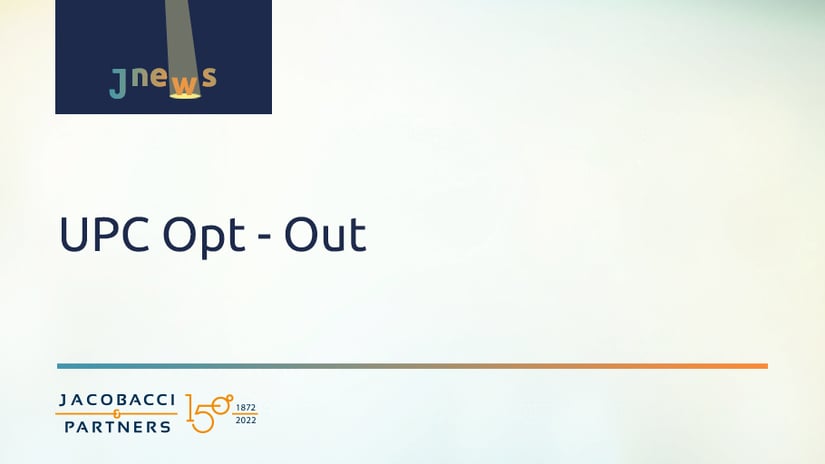 We are writing to you with regard to your European patent applications/ European patents for which our firm acts as representative before the EPO.
As you may know, the Agreement on the Unified Patent Court (UPCA) will likely enter into force on 1 April 2023.
This entry into force will be the most significant change to patent practice in Europe since the European Patent Convention (EPC). It will, for the first time, enact a European Patent with Unitary Effect, covering initially 17 EU member states (AT, BE, BG, DE, DK, EE, FI, FR, IT, LV, LT, LU, MT, NL, PT, SE and SI), and will allow a unitary patent litigation in such member states.
The UPCA provides indeed for a new court – namely the Unified Patent Court (UPC) - which, by default, has jurisdiction also for traditional European patents and applications, unless the patent proprietor or applicant requests that the national courts shall continue to have exclusive jurisdiction by means of an "opt-out" declaration.
Hence, we ask for your instructions as to whether we should opt out your European patent applications/ European patents from the exclusive competence of the UPC.
By filing an opt-out declaration, the status quo of the exclusive competence of national courts with regards to the above-captioned European patent applications/ European patents will be preserved.
Withdrawal of the registered opt-out will be successively possible during a transitional period of at least seven years, but only once, and if no national proceedings have been initiated regarding the patent or application in the meantime.
Filing such an opt-out declaration may be desired, e.g., to protect important patents from central revocation actions before the UPC. Such central attack may be launched as soon as UPC becomes operative, likely on 1 April 2023.
Therefore, for patent proprietors wishing to a priori avoid any risk of central revocation, it is critical to opt out their patents from the UPC jurisdiction actively and before the UPCA enters into force. It will be possible to do so during a so-called "sunrise period" beginning likely on 1 January 2023.
The effectiveness of an opt-out will not be confirmed by the UPC and may be challenged by adversaries in later court proceedings. In any case, an ineffective opt-out or omission to declare an opt-out would have no consequences other than the UPC having jurisdiction for the concerned application/patent and in particular, it would not affect its validity.
Accordingly, your instructions for possibly opting-out your European patent applications/European patents should be provided to us as soon as possible. Early instructions will minimize the risk that a desired opt-out declaration cannot be registered in time by the UPC. In this respect, you should also provide us with the name and legal address of the current patent proprietor(s), since incorrect or outdated data may render ineffective an opt-out declaration even if duly registered.
Should you have any questions or comments regarding your European patent applications/ European patents or in general about the UPCA and UPC, please feel free to contact us.
In the absence of your feedback by 15 November 2022, we shall assume that you are not interested - at least for the time being - in opting-out your European applications/European patents and consequently we shall not take any action in this respect.
Thanks to Angelo Gerbino and Francesca Meroni.