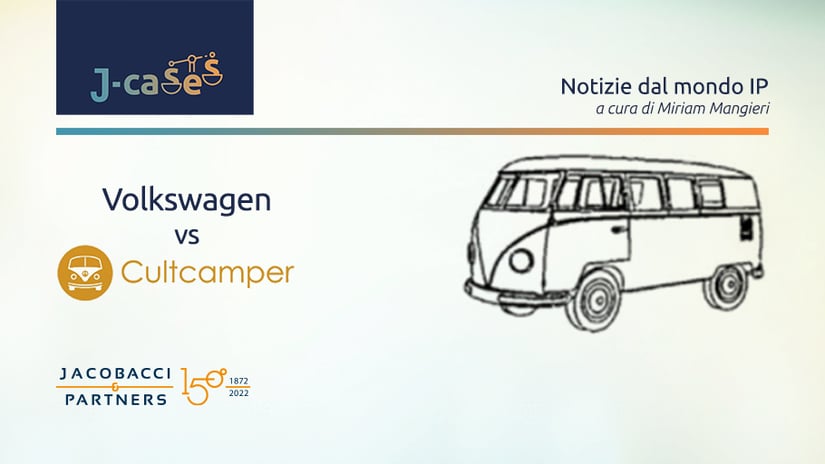 The Second Board of Appeal of the EUIPO has recently issued a decision in the case Volkswagen vs. European Flipper / Pinball Factory GmbH.
European Flipper / Pinball Factory GmbH ("the applicant") filed a EUTM application for a figurative mark composed by the front view of a vehicle in a yellow circle and the word element CULTCAMPER in relation to classes 11, 12, 20, 21 and 39.

Volkswagen ('the opponent') filed an opposition against the registration of this trade mark application on the basis of its previous rights: European Union 3D mark No. 10511591 and international registration No. 922784 designating the European Union, both registered in different classes, including class 12.

The EUIPO dismissed the opposition finding the signs dissimilar. According to the Office, the earlier marks represent a camper van or bus and thus they have a low distinctive character, while the word CULTCAMPER in the applied for mark plays a differentiating role.

In the appeal, the Board of Appeal overturned this decision. The Board stated that the earlier marks have to be taken as a whole and not as individual perspectives. The fact that the marks represent a depiction of a van is not sufficient to conclude that the marks' distinctiveness was low.

On the contrary, the Board considered the earlier marks distinctive enough because they depart from the customs of the sector concerned, while the word CULTCAMPER is a merely laudatory expression that indicates a product that is admired or regarded as fashionable.

Considering the above, on the basis of the distinctive character of the earlier marks and applying the interdependence principle, the Board concluded that the mark applied for will perceive as another version of the earlier marks and that therefore there is a likelihood of confusion, including a likelihood of association between the signs at issue.