Interviewed by Lucy Lawson and Nadège Serrero
Meet our Member and Board Member, Enrica Acuto Jacobacci, CEO, Deputy Chair and Managing Director of Jacobacci & Partners in Italy. In this interview, we discuss with her the future of intellectual property in the EU, as well as the importance of education and fostering diverse representation within companies.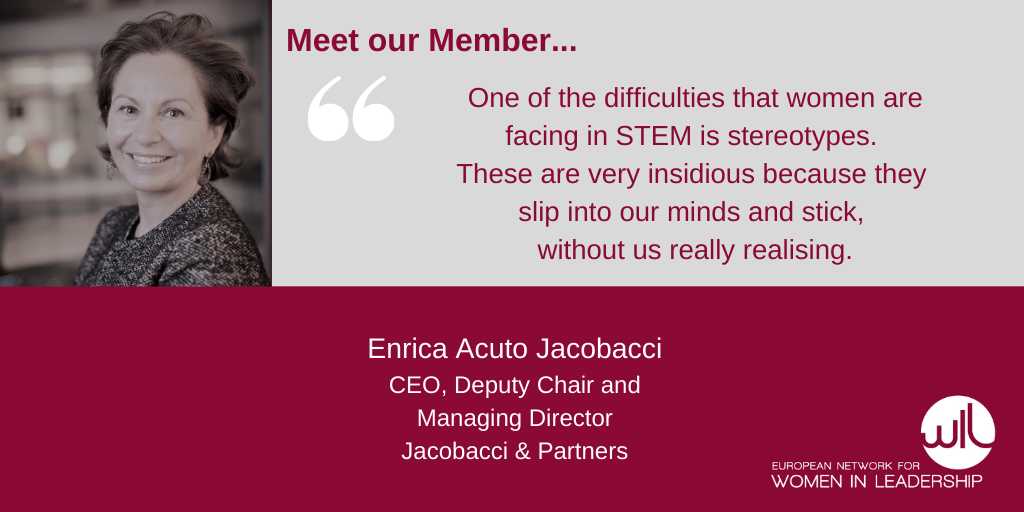 You are CEO, Deputy Chair and Managing Director of Jacobacci & Partners, a European agency focused on the protection of intellectual property. Tell us more about the organisation, your role, and what you enjoy most about it.
Jacobacci & Partners was founded almost 150 years ago as a professional Intellectual Property (IP) firm. In the last 15 years it has evolved into a large international Group with 14 offices in Europe. I currently cover various senior positions within the companies which make up the group. After a few years of focusing on the integration of our international acquisitions, this last year my focus is more on Italy, especially because of the pandemic situation, which is our biggest and most important operation.
Just before the pandemic hit, I created a new Executive Committee composed of eight people, including myself, who have been actively involved and helped me in finding the right balance between our employees' wellbeing and our clients' needs all throughout the year.
As an Executive Committee, we share this and other responsibilities by interacting in a way which makes the most of – and respects –the different skills which we bring to the table. We are all actively involved in the management of corporate strategies and have the common goal of putting into practice all the necessary actions to ensure the smooth running of the company. I am very grateful to have such an amazing and collaborative team.
I am personally a great advocate of shared leadership in the company. This is not just an organisational issue but one of managerial culture, and it is an approach which helps everyone to go above and beyond. Shared leadership ensures the distribution of decision-making processes and responsibilities amongst managers. Thus, by adopting this structure, I have been able to preserve what I like the most in my role – that of vision, coordination, and strategic management. It allows us as a team to keep the right perspective and a common and shared line of action.
The concept of intellectual property has evolved since Jacobacci & Partners was first established in 1872 and it wasn't until the late 20th century that the concept became widespread in legislation across the globe. What are intellectual property rights, and why is having a strong and fair intellectual property regime so important for developing a thriving creative economy?
Intellectual property has always delt with innovation - and we need innovation now more than ever.
In the past, entrepreneurial success was more defined by its capacity to aggregate several factors. Nowadays, however, everything starts from ideas. We must protect these ideas, and ideals, especially as it is becoming increasingly common for entrepreneurs to do business with the aim of improving the world.
We must protect these ideas, and ideals,
especially as it becoming increasingly common
for entrepreneurs to do business
with the aim of improving the world.
What Jacobacci does, and has always done, is to help entrepreneurs protect and define their ideas in the best possible way, so that their project can become something which has an impact on the market. Jacobacci's job is to support entrepreneurs and IP managers as they learn more about the market and the importance of protecting their ideas. We employ several tools to protect intellectual property: patent, design and copyright to name a few. Jacobacci helps select the best protection tool in relation to the needs and type of idea which our clients present to us. However, when working with IP, one must keep in mind that the right to protection is temporary, because in the long term every innovation must become advantageous to a larger number of people, and this is part of the deal.
IP protection tools can also become business tools; for example, the owner can make his idea available to others in the form of a licence or can sell the patent itself. This flexibility is a big part of the open innovation dynamic which Jacobacci has chosen for its customers – this approach is excellent for evaluating new ways of accelerating our clients' growth.
From a worldwide perspective, we can see that the IP market is still growing, both in emerging markets and in mature markets. We are witnessing a large change in the tools which are being employed to protect IP; there is a great deal of structural turbulence in the system, and this constant evolution is a historical moment. The good thing about IP is that you are always on the edge; you never miss what is going on and it is quite exciting. We must monitor these new emerging trends and adapt to them very quickly so that we can help entrepreneurs and IP managers to continually find new solutions. Time is of the essence with IP. This has been especially true during the pandemic, since patents have had to be filled quickly due to the increasing amounts of new products being launched. Our company was really under stress for most of 2020, but I am very proud of my team for having managed the situation and ended the year on a great note.
The good thing about IP is that
you are always on the edge,
you never miss what is going on
and it is quite exciting.
The European Union's (EU) Lisbon agenda committed the EU to becoming the most dynamic and competitive knowledge-based economy in the world. What is the role of knowledge in the modern economy and how far have we got in meeting the EU's ambitious target?
Even though the Lisbon agenda was established 20 years ago, it can still be considered as quite an extraordinary policy. The Lisbon agenda is an essential point of reference for understanding what it means to commit to the prioritisation of education and the training system to develop a contemporary society.
With the pandemic, one of the things we have surely been deprived of is school. In my view this institution is too often taken for granted; we underestimate the importance of education for all ages to our way of life. The knowledge economy is based on education and training, and I feel that we are still very far away from having achieved the objective of the Lisbon agenda.
What I wish for from now on is adequate awareness with the right decision-making. We need to understand that this unique and strange situation in which we find ourselves in cannot be remedied solely by online teaching. This will never be able to replace, not even in part, face-to-face teaching. I believe that we have, in the current crisis, the opportunity to enact what was written 20 years ago in the Lisbon agenda and rethink these priorities. Online education is advantageous since it means more people can be educated; however, it takes away the importance of collaboration in teaching, something which is better facilitated when we are all in the same room. To give an example, when you arrive in a company it is important to shadow someone and learn from them. You cannot learn in this same way online. This type of learning comes very much from example. We are like animals; we need to be able to model examples, and this modelling mainly occurs in person.
Europe must focus again on the importance of education for the future generation by putting more resources into this sector. We need to take a quantum leap into a new world, and I believe that education is the way to get there.
Jobs in STEM (science, technology, engineering, and maths) have been described as 'the occupations of the future', driving economic growth and innovation, and social wellbeing. Yet, a 2017 study by The European Institute for Gender Equality found that among tertiary STEM graduates, only one third of women end up in STEM jobs, compared to one in two men. Why is gender parity in STEM so important in today's knowledge economy and what more can be done to close the gap?
With the development of the knowledge economy and the growing importance of new technologies, it seems that skills in STEM are increasingly necessary and will continue to become more important in the coming years. To ensure our capacity to develop in these areas, it is essential to approach young people and excite them about these developments to ensure that enough people are qualified in this area. When discussing study programmes, I believe that it is important to attract young people to inspire them to work in STEM. Though there are more and more women in the scientific fields, this is not enough. Diversity in the scientific sector is a legacy that we need to fight to attain.
One of the difficulties that women are facing in STEM is stereotypes. These are very insidious because they slip into our minds and stick, without us really realising. Comments when you are young such as "the science field is only for men" need to be countered. We must speak about STEM in a gender inclusive way, even to young children. It is by doing this that girls and boys will be able to realise their full potential in scientific and technological careers.
One of the difficulties that
women are facing in STEM is stereotypes.
These are very insidious because
they slip into our minds and stick,
without us really realising.
Institutions and companies play a special role in promoting science education activities, which influence the way that students construct their identity and attitudes towards STEM. Furthermore, a lack of diversity can have dire consequences in scientific trials. If researchers do not take the gender variable into account, the result obtained can be distorted. For example, if a drug is only tested on males, the results will be totally wrong.
I believe that it is extremely important to reposition the image of STEM. At Jacobacci, we have a large representation of women who have completed scientific and technological studies and whilst this number is constantly increasing, there is still more work to be done for STEM to become truly diverse.
You have long been a champion for women's advancement in leadership positions, both as a Board Member AIDDA, an Italian association seeking to promote and support female entrepreneurs, managers, and professionals, and as a Board Member of WIL. What are some of the barriers to ensuring equal representation of women and men in leadership positions in Europe and how have you sought to overcome these as Manager Director of Jacobacci & Partners?
It is essential that we all contribute to breaking down gender stereotype. Women and men, in all their diversity, should always have the same opportunities for equal fulfilment. There are still too few women in managing positions, and the fact that men have exclusively occupied the top positions historically makes it very hard for a woman today to break through into these high-level leadership positions. It is important to push women to go for these opportunities.
From a leadership perspective, a diverse leadership is the best leadership. It is important to have both men and women present in the top positions in order to bring new ideas and strategies to the table so that we are equipped to respond to the complex challenges we are facing today.
Over the years, at Jacobacci & Partners, we have worked to achieve equal representation of women and men. However, there is still more work to be done. Since I entered the Board of Directors in 2004, we have attained an equal representation of women and men in the Executive Committee. We still have a long way to go, but I am proud to be one of the first people in my firm working towards gender equality and supporting the conciliation of professional and private life for women.
This conciliation of the professional and private sphere is really important to me. In the household, women are usually the carer of the children. Following this trend, Jacobacci & Partners has tried to make the lives of women with families easier, especially during the pandemic when they had to work from home whilst looking after their children. To lift some of this stress, we offered online yoga classes for children to encourage them to practice at home. In addition, last summer we hosted our yearly summer camp to look after the children of our employees when the schools are closed over the summer but when mothers were still working. I am also proud of a long-standing tradition we have at the office, which is to leave a bouquet of flowers on a new mother's desk when she returns from maternity leave.
We also try to keep this gender representation present in our events. In Italy, we organise one of the most important events about technology transfer called the 4T-Tech Transfer Think Tank. We have been running this event, dedicated to tech transfer and innovation, for eight years. For the past edition, we dedicated the event to innovative health at the time of COVID-19 and presented this topic with a diverse line-up of speakers and an equally diverse scientific committee.
We like to finish our interviews with a question from the Proust questionnaire. Your chosen question is: What do you consider your greatest achievement?
I have been very lucky in both my private and professional life. I am very proud of my beautiful family and my three children. I would say that my greatest achievement has been finding a good balance between the various aspects and roles in my life. During my career, I was able to work flexible hours and this really allowed me to spend time with my children, especially when they were younger.
I believe that women should not be forced to find excuses to spend time with their families and children. It is unacceptable that women who choose to have a family are penalised for it. I believe that all the good moments we encounter make the bad ones easier to overcome. In every situation, we must remember that there is something to learn.
I believe in many ways that my biggest achievement is still to come, and I would like to play a role in changing the rules for a better world - not only for women but for everybody.
I believe in many ways that
my biggest achievement is still to come,
and I would like to play a role
in changing the rules for a better world -
not only for women but for everybody.
Source: WIL Europe